PROTECT AND BEAUTIFY YOUR FLOORS WITH A RUG FROM RUGS.SHOP
When you visit Bow Family's online Rugs.Shop, you can browse from more than 100,000 area rugs from brands like Karastan, Nourison, Oriental Weavers, Milliken Sports, Liora Manne and more.  When you find the rug that you love, it will be shipped right to your home, straight from the manufacturer.  Plus, the shipping is always free!
Whether you're looking for a new focal point in your living space or need a new neutral base, an area rug is a great place to start!  If you've recently installed new hardwood floors, tile or laminate flooring, an area rug is the perfect way to help protect those new floors.
When purchasing your area rug, we highly suggest adding a rug pad underneath your rug to increase safety, extend the life of your rug and to protect that new flooring underneath your area rug. You'll find a selection of rug pads on the Bow Family Rugs.Shop.
RUG MATERIALS AVAILABLE ON THE BOW FAMILY RUGS.SHOP
Before buying an area rug, think about your style goals. An area rug can add an extra cozy feel to your room and is an easy way to define any living space, especially a larger room or an open-concept home. An area rug can infuse warmth, texture, and style into any design. You can even have fun with rugs by layering different rug patterns, colors, and sizes to create contrast and visually exciting room designs.
When selecting an area rug, factor in the material. There are many options including polyester, silk, Triexta, wool, leather, jute, polypropylene, and more!
Consider where you rug will be placed in your home. Is it in a high-traffic area? Do you have kids? Are you looking for something that is stain-resistant and a little more durable, or something more elegant and ornate? 
One last thing to consider is the construction of the area rug. This refers to how the rug is made, which can make all of the difference. The construction determines the look, quality, texture, and the life of your rug. You can choose from flat woven, hand-hooked, hand-knotted, hand-tufted, handmade, machine-made, printed, and more.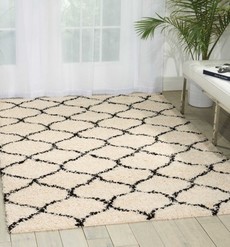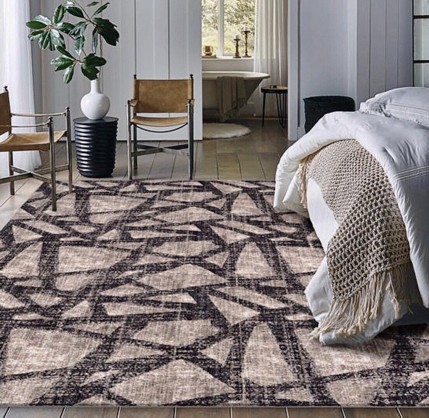 Don't forget about adding a rug pad!