We recommend frequent care and maintenance to keep your new carpet from Bow Family Furniture & Flooring looking beautiful and feeling plush. We understand you may not have a lot of time to invest in upkeep, but following some simple care and maintenance tasks will ensure the longevity of your carpet.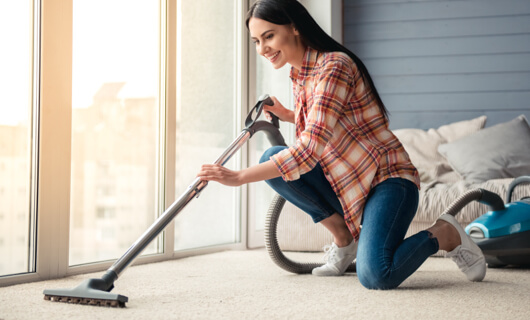 Daily care & maintenance
A good vacuum cleaner is your carpet's best friend. Buy a quality vacuum and use it regularly. A thorough vacuuming removes loose dirt and dust from your carpet's fibers, which, over time, dull your carpet's appearance. We also recommend having your carpet professionally cleaned once or twice a year.
HOW TO GET STAINS OUT OF CARPET
Your first inclination when it comes to common household stains might be to just jump right in and clean up the mess. But before you try to tackle any spills or stains, it's important to first establish whether it's an oil-based stain or water-based stain. Since some spills will just wipe away with a cleaning cloth while others will require comprehensive stain removal directions, it's best to consult with your manufacturer's care guidelines. If needed, you may need to use a carpet cleaner or carpet stain remover.