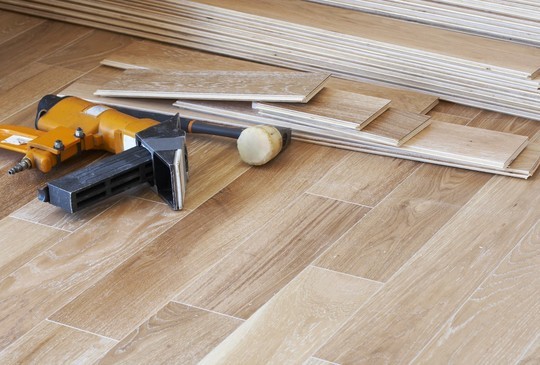 TRUST US WITH YOUR HARDWOOD FLOOR INSTALLATION!
New hardwood beautifies your home and increases its value. To get the most out of your investment, trust the experienced installers at Bow Family Furniture & Flooring with your hardwood floor installation! We have the specialized skills and tools needed to get the job done right!
HARDWOOD FLOOR INSTALLATION COST & PROCESS
Hardwood flooring installation cost can vary from product to product, but it largely depends on the size and shape of the space in which you're having the floor installed. Before you make a purchase, you'll have the opportunity to get a free in-home measurement and accurate estimates so you can make the most informed decision.
Your Bow Family Furniture & Flooring specialist will consult with you before your hardwood flooring installation to confirm all the details that need to be taken care of. However, there are a few steps you'll likely always need to take:
First, have a plan for your furniture. Typically, we can move your furniture for you. However, if you have heavy items or objects that require special care, we may recommend hiring professional movers and storage experts. Second, plan to take care of any other projects, such as painting, before your hardwood is installed. This minimizes the potential for damage to your new floor.
On the day of your hardwood flooring installation, an adult member of your household (18 years or older) should be home to greet the installation crew and show them to the work area. The team will then get to work on preparing your subfloor, removing old flooring as needed, and installing your new hardwood. For everyone's safety and to help the project go smoothly, keep children and pets away from the work area until the job is done. Feel free to ask your lead installer any questions you might have.
Stay off your new floors after the job is done. The stain and varnish that has been used on the surface will need time to cure properly. The lead installer will be able to advise you on how long this will take.