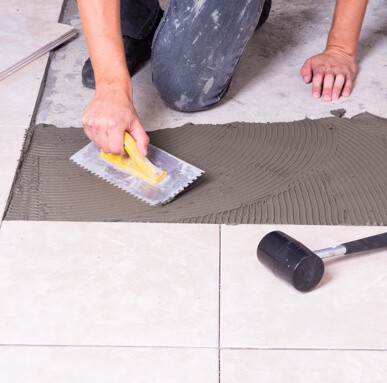 Trust us with your tile installation!
Installing tile or stone can be complex and time-consuming, so we highly recommend hiring a professional to do the job. We will talk you through the entire process so you can prepare your home in advance. We send out a professional to measure your rooms, check if there is anything that could prevent the installation from going smoothly, and determine how much tile will be required for the job. Read on to learn more about our tile installation process.
The tile installation process
Tile installation cost can vary from product to product, but it largely depends on the size and shape of the space in which you're having the tile installed. Before you make a purchase, you'll have the opportunity to get a free in-home measurement and accurate estimates so you can make the most informed decision.
Your Bow Family Furniture & Flooring specialist will consult with you before your tile installation to confirm all the details that need to be taken care of. However, there are a few steps you'll likely always need to take:
The first step of the installation is to remove your existing flooring. Depending on the state of your old floor, the length of this stage will vary. We'll let you know before the process begins if removal and disposal of the old material is a separate fee or if it is included as part of the installation fee.
The next step is to ensure the subfloor is clean, flat, smooth, and ready for installation. It is important to note that if the subfloor is not concrete, then this will require the installation of concrete backer boards before the floor can be installed. If this is the case, the height of your tiles may vary, requiring different transitions between rooms. This process will involve cleaning, fixing any cracks, and letting any new concrete cure.
The next stage is the actual laying of the tile or stone. Our installers will cut or trim the tiles and spread mortar and grout as they lay each tile. New tile installations need time to cure and solidify, so it will still take at least 48 hours until the tiles can be walked upon.